This site uses cookies. By continuing to use this site, you are agreeing to our use of cookies.

Learn More.
Dismiss Notice
Thanks for visiting Us!
Welcome to FPS24/7

FPS24/7 is a free gaming community for fans of First Person Shooter's and anyone who likes to jib-jab ! If you find anything useful here please consider registering to see more content and get involved with our great community of users, it takes less than 30 seconds! Everybody is welcome here. This Notice will disappear once Registered!
Click here for a FREE account
FPS24/7 - First Person Shooter Forum | FPS Discussion Forum
MWR forum, Infinite Warfare forum, Black Ops3 forum, Destiny forum, FPS forum, First Person Shooter forum,Modern Warfare Remastered forum, call of duty forum, Battlefield 1 forum, BF1 forum
Afflicted with F.P.S.A.D.?
Welcome to FPS24/7, The supreme medication for the relief of chronic
F

irst

P

erson

S

hooter

A

ddiction

D

is-order! We're here to help 24/7! Join fellow FPS addicts

OR

Log-In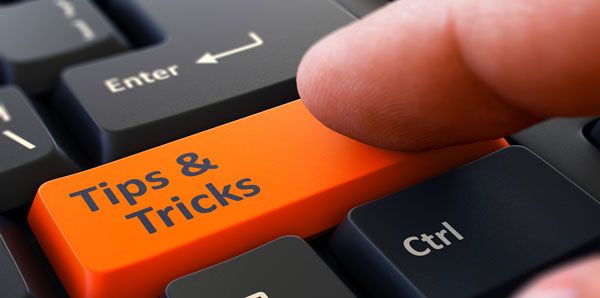 ​
Hello fellow members & Lurking Guests -- First off, we'd like to welcome all new members to the forum. Upon joining this forum, we have new members ask the same questions that have been answered consistently, so I've compiled a list of links that will answer these questions
Tips & Tricks​
1.
Closing SideBar:
If wanting not to see the sidebar on the forums listing page simply click the arrow and the sidebar will close.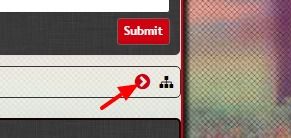 2.
Quoting part of Message:
If want to only quote part of someone's message:



3.
How to add Spoilers:
click the "insert" button and then select "spoiler". An overlay will pop up where you can input a title for the spoiler and will then appear as above spoilers. A more complete explanation of the bbcodes can be found on the help tab above.
4.
Article filtering on the Home-Page:
When on home page you can filter the topics by the categories in bottom left corner.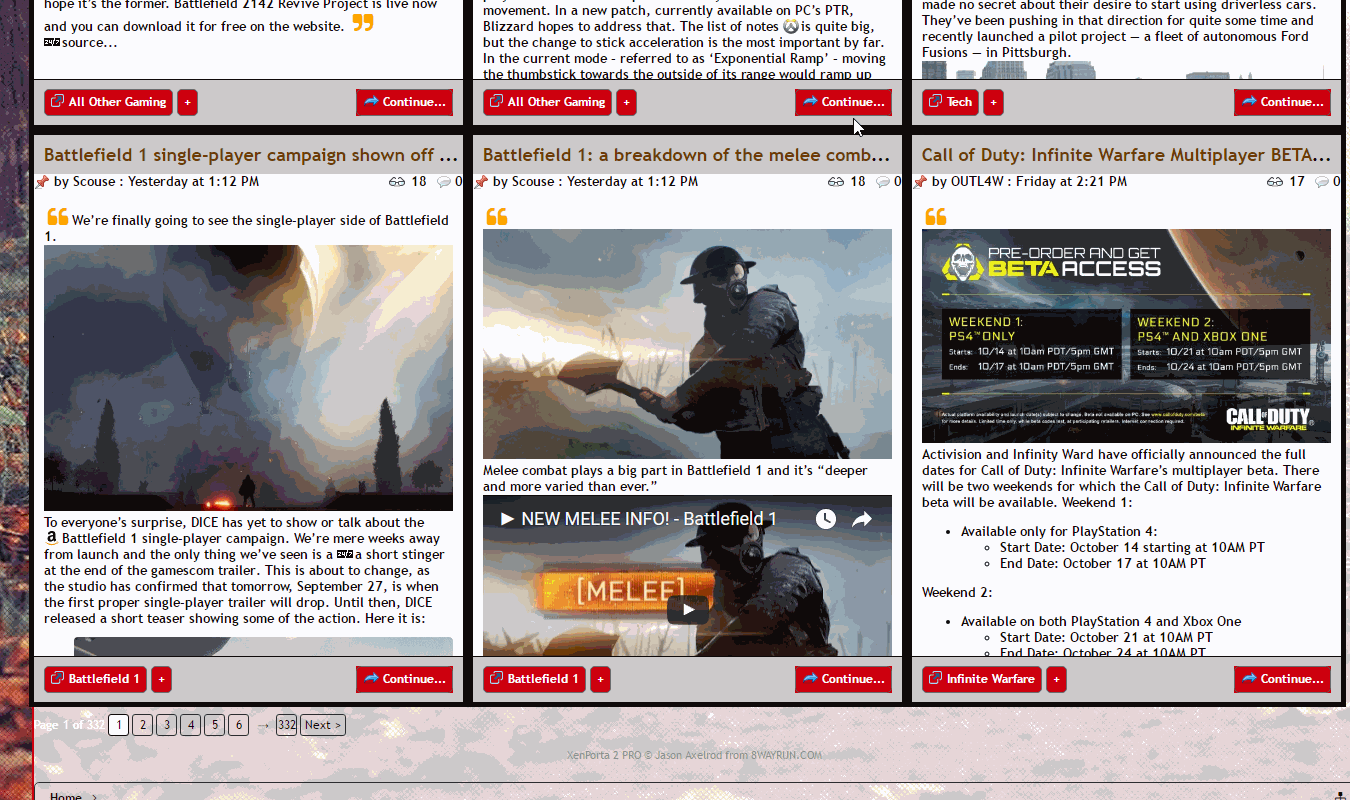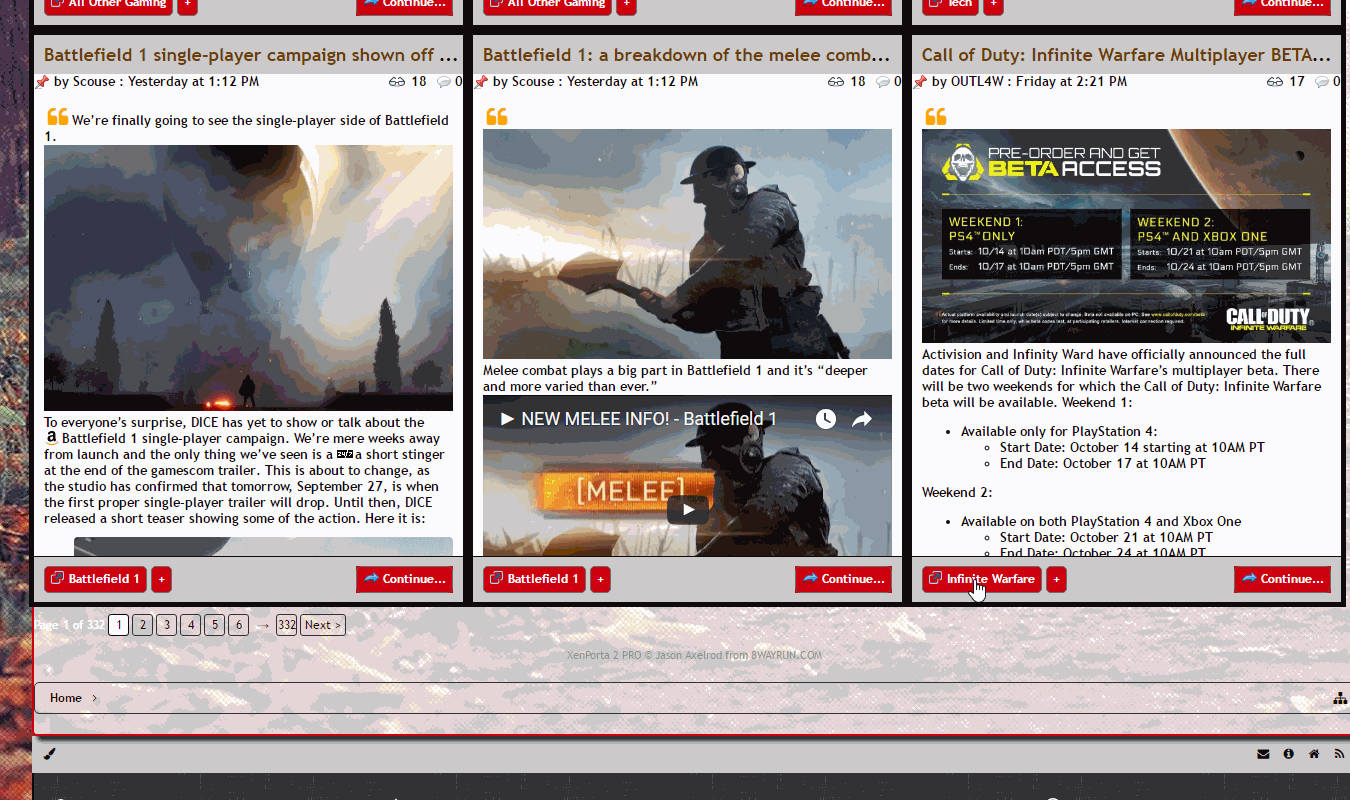 5.
How to change Background images: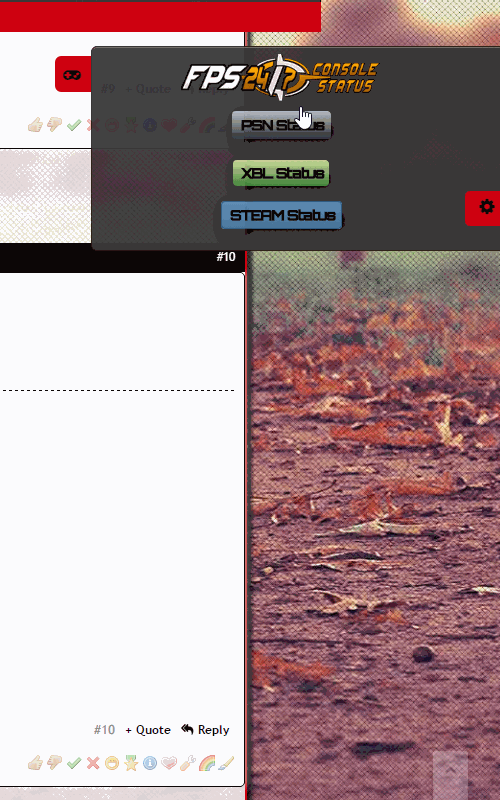 6.
How to place the shoutbox on all pages: only appears for logged in members.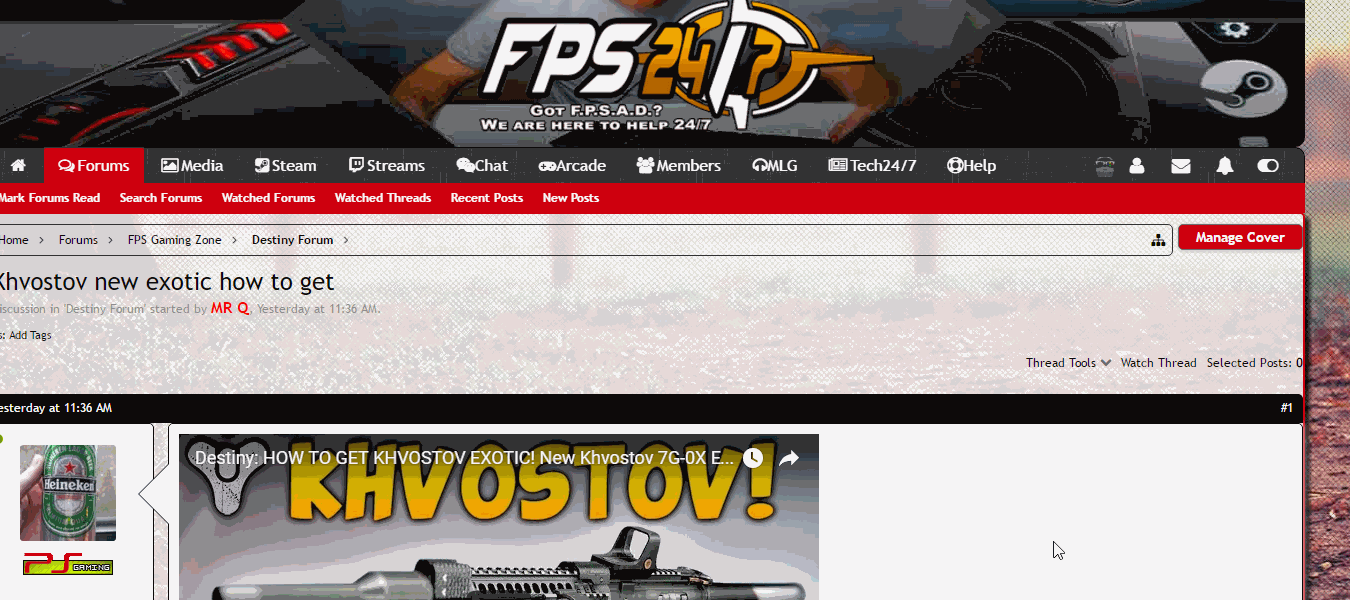 click options in upper right corner then choose "default" in the "display mode" drop down menu.
7.
How to change between the WaxOn (light) and WaxOff (Dark)theme: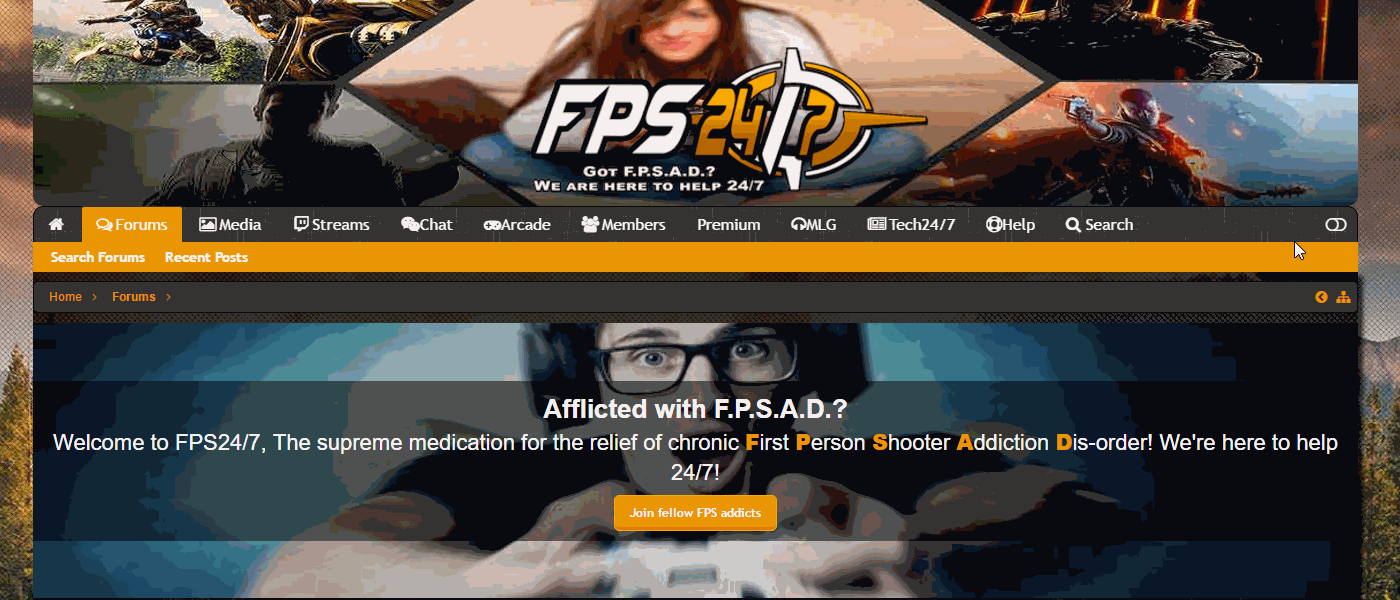 8.
How to sort sub-forums by thread - prefixes/tags: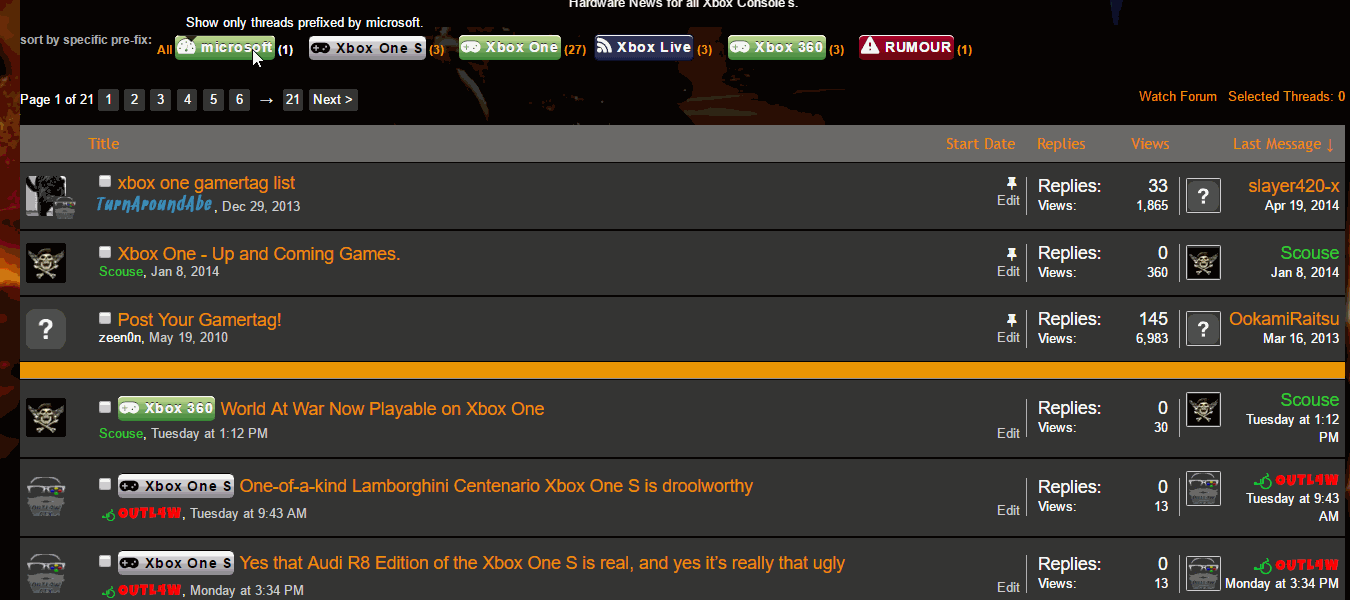 9.
How to view forum descriptions: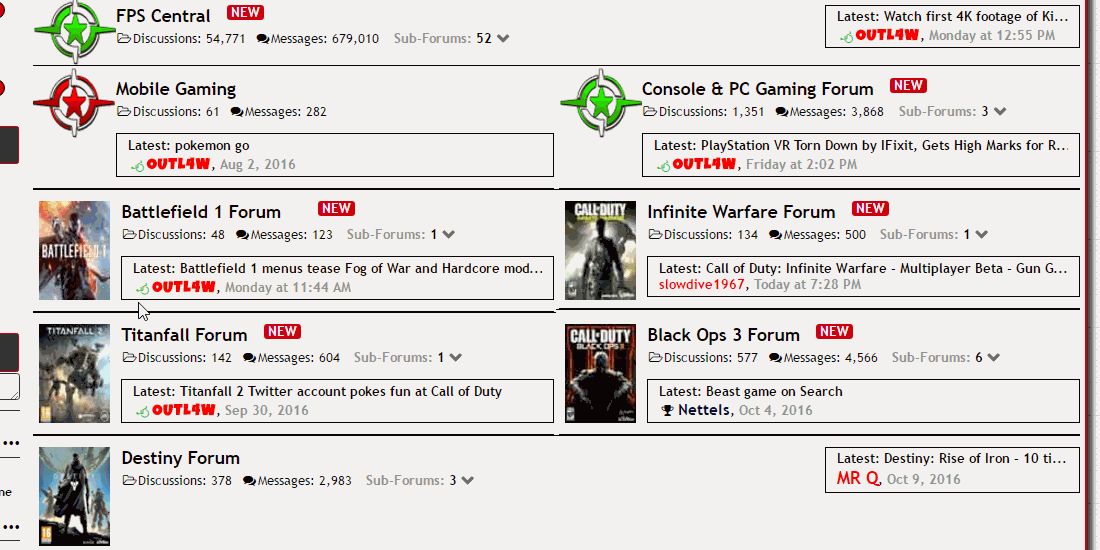 Related articles:
How to add media to posts and to your personal album
State of Decay 2 - E3 2017
Deep Rock Galactic on Xbox One - 4K Trailer
MP Trailer
Official Call of Duty®: WWII – Pointe Du Hoc Multiplayer Map Flythrough
Drift0r
AliGay
Chaos
HollowPoint
The trailer shows games getting special 4K builds for Xbox one X, as revealed during Microsoft's Xbox E3 2017 presentation. These are:
Middle-Earth: Shadow of War
Forza 7
State of Decay 2
Crackdown 3
Assassin's Creed Origins
Metro Exodus
Anthem
Killing Floor 2
Need for Speed Payback
Sea of Thieves
Madden NFL 18
Minecraft
Super Luckey's Tale
Ori and the Will of the Wisps
gears of War 4
Forza Horizon 3
Killer Instinct
Resident Evil 7 Biohazard
For Honor
Ghost Recon Wildlands
Titanfall 2
Farming Simulator 17
The Surge
World of Tanks
Hitman
We Happy Few
Ark Survival Evolved
Outlast
Paladins
Astroneer
Rocket League
Rime
Slime Rancher
Today during a
Making of Call of Duty
livestream, developer Sledgehammer Games revealed a myriad of new and exciting details about the multiplayer mode for its upcoming game
Call of Duty: WWII.
Lets start with Divisions, which is replacing the create-a-class feature. Each Division will have its own unique play-style and weapons. Further, divisions will be customizable with the ability to swap out guns and equipment. One notable change is the absence of perks within each division.
Just like how the player has the ability to change classes mid-game in current
Call of Duty's,
players will have the option to the change their Division mid-game as well. Players are able to choose among the following Divisions: Airbourne, Armored, Mountain, Expedition or Infantry.
Airbourne is centered around a run-and-gun play style, Armored will be focused on a more aggressive play style, Mountain is where snipers will want to be, the Expedition is all about close-quarters combat, and Infantry will be the home to rifles and mid-range combat.
Next we have Headquarters, which is the new social space within
Call of Duty: WWII's
multiplayer mode. In this space, which has a cap of 48 people, players will be able to interact with each other in various ways. Sledgehammer Games said this mode evolved from the interactive lobbies featured in its last game
Call of Duty: Advanced Warfare.
The full list of features within this mode have not been revealed, but the developer did say that players can challenge others in 1v1 matches, as well as compete for a high score in a firing range.
Finally we have War. Success in this game mode hinges entirely on teamwork. During each match, players will have to either defend or attack certain objectives (for instance, a tank). It was also revealed that War will feature maps that can only be played in that specific mode, so don't expect to see normal Team Deathmatch, or Domination maps within War.
Sledgehammer also revealed the dates for the game's beta. You can check out the full schedule below:
PlayStation 4:
Starts: August 25th, 2017
Ends: August 28th, 2017
PlayStation 4 and Xbox One:
Starts: September 1st, 2017
Ends: September 4th, 2017
As of the time of this writing, a PC beta has not been announced.
Sledgehammer Games also commented on the inclusion of Nazi symbolism in the game. After a long discussion, the developer said it had decided to include the symbolism in the campaign in an effort to make it as historically accurate as possible, but that it won't be showing up in the game's multiplayer or zombie modes. During the livestream, Michael Condrey had this to say about the issue:
It's something we really wrestled with. You know there is this responsibility to balance what really happened in an authentic way, but, you know, we really need to be respectful for the victims in this very dark time in human history. This was a massive war, a global conflict. 100,000,000 people perished in this. So, ultimately we decided that Nazi symbols like the swastika had a place in our campaign, to be historically accurate…But in our multiplayer and zombies, this a global community, this a global community where the experience is visceral and intense, and we didn't feel like it was appropriate there. It's a dark symbol, and we have to be really respectful and mindful of the customs and regulations of different territories, and we wanted the whole community to play together…
The developer also confirmed that the next
Making of Call of Duty
livestream will feature and inside look at the game's Zombie mode. As of the time of this writing, it's unknown when exactly that livestream will occur.
Yesterday
during Sony Interactive Entertainment's E3 press conference, Activision revealed a brand new multiplayer trailer for the game.
Call of Duty: WWII
will hit store shelves on November 3rd, 2017, and will be available for PlayStation 4, Xbox One, and PC.